مرورگر وب شما قدیمی است.
برای امنیت بیشتر، سرعت و بهترین راحتی در این سایت، مرورگر خود را به روز کنید.
به روز رسانی مرورگر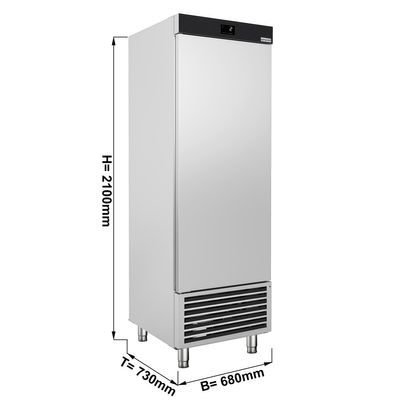 یخچال - 700 لیتر - یک درب
SKU: KND700
Temperature: -2 ~ +8 °C
* ممکن است تصویر کمی با تصویر اصلی متفاوت باشد.
یخچال - 700 لیتر - یک درب
SKU: KND700
Temperature: -2 ~ +8 °C
تراحی
Ideal solution for professional use
Stainless steel solid doors
Height adjustable stainless steel feet
Digitally controlled thermostat
Strong and consistent cooling
کیفیت
Side and door insulation 60 mm thickness
Interior in stainless steel
Feet made of rustproof stainless steel
For safe usage, the door is equipped with a magnetic seal and a mechanism to allow the door to close gently
Refrigeration
Automatic defrost function
Extremely efficient cooling motor
Temperature range: -2 °C to 8 °C
Fridge compartments
1 chiller compartment with 1 door
Connection
Dimensions
External dimensions B x T x H: 680 mm x 730 mm x 2.100 mm
Guidelines
Produced in line with the hygiene and safety directives
Exemplary: material corresponds to the European Food Product Standards
امتیاز های شما
بیش از 12000 محصول بلافاصله در دسترس است
ارسال رایگان در داخل آلمان

شامل.

بهترین کیفیت برند
در مورد هیچ محصولی اطلاعات ندارید؟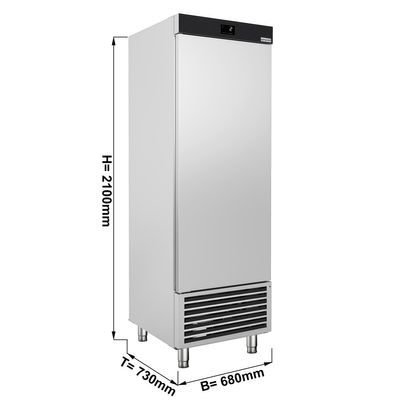 * ممکن است تصویر کمی با تصویر اصلی متفاوت باشد.
یخچال - 700 لیتر - یک درب
SKU: KND700
Temperature: -2 ~ +8 °C
شرح
تراحی
Ideal solution for professional use
Stainless steel solid doors
Height adjustable stainless steel feet
Digitally controlled thermostat
Strong and consistent cooling
کیفیت
Side and door insulation 60 mm thickness
Interior in stainless steel
Feet made of rustproof stainless steel
For safe usage, the door is equipped with a magnetic seal and a mechanism to allow the door to close gently
Refrigeration
Automatic defrost function
Extremely efficient cooling motor
Temperature range: -2 °C to 8 °C
Fridge compartments
1 chiller compartment with 1 door
Connection
Dimensions
External dimensions B x T x H: 680 mm x 730 mm x 2.100 mm
Guidelines
Produced in line with the hygiene and safety directives
Exemplary: material corresponds to the European Food Product Standards